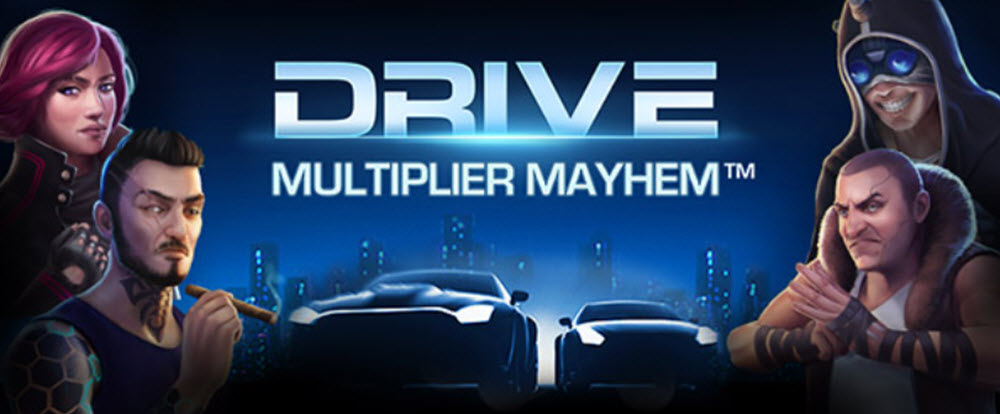 Released in 2016, Drive: Multiplier Mayhem is a 5-reel slot machine from the game developer NetEnt.
In Drive: Multiplier Mayhem, it's all about car racing. Examples of included features are Multiplier Wilds and Free Spins. The bet multiplier is pretty awesome and can reach a massive 120x in the Free Spins round, where our hero Jette will race against three other drivers.
NetEnt has clearly spent some time and energy on creating a beautiful and exciting city environment for the reels to be in. At the bottom of the screen, you will see a speedy car come flying down the road.
Devices
Drive: Multiplier Mayhem is available for both desktop and mobile devices.
Paylines
Drive: Multiplier Mayhem has 15 pay lines.
Wagering
Smallest possible bet: £0.01
Largest possible bet: £75
Coin range: 0.01-0.50
RTP
The RTP is 96.7 percent.
Volatility
Drive: Multiplier Mayhem is a high-volatility slot.
When playing this game, expect to go through periods of no or just minuscule wins, waiting for the big win to come. This can be a problem if you have a small bankroll. Our advice is that you adjust your wager accordingly, to avoid running out when you hit a dry streak.
In the base game, the wins tend to be small, unless you get help from the wild multipliers. It is the free spins mode that is famous for being generous.
Multiplier Wilds
The speedometer is a wild symbol that also works as a win multiplier in Drive: Multiplier Mayhem.
The wild symbol is a 2x win multiplier when it appears on the second reel, a 3x win multiplier when it appears in the third reel, a 4x win multiplier on the fourth reel, and a 5x win multiplier on the fifth reel. The multipliers are cumulative, so a win with a 2x multiplier and 3x multiplier will be multiplied by six, and so on.
Scatter symbol – your key to the racing free spins mode
The figures getting ready to race is the scatter symbol in this game. You need to get at least three scatters to trigger free spins mode and get 10 free spins.
How successful you will be in this street race depends on how many nitro meters you get, and how quickly they appear. If you get three, you will proceed to the next race level. At that race level, you are guaranteed wilds on the screen, and more free spins.
Level 1: 10 free spins, no guaranteed wilds
Level 2: 4 additional free spins, 1 wild guaranteed on screen
Level 3: 3 additional free spins, 2 wilds guaranteed on screen
Level 4: 2 additional free spins, 3 wilds guaranteed on screen
You can play up to 19 free spins while getting more and more wilds on the reels. The maximum win multiplier is a whopping 120x since the various multipliers add up together.
In free spins mode, you are much more likely to see wilds on the fourth and fifth reel than during the base game.